Please follow the instructions below to create a new portal account.
1. Please fill in the details below format for Ambulatory Assessments and send it to aap@doh.nj.gov, and if GME assessments please send it to gmesa@doh.nj.gov.
- Facility Name:
- Facility Email Address:
- License #:
- Job title:
- First Name:
- Last Name:
- Phone #:
- Email Address:
- Who needs access and what type of access is needed? ( Assessment View/Submit Access / Assessment View Access Only)
NOTE: If you have multiple users in the same facility, please mention the details in the same above format.

( OR)
Please click here to download the format.

2. Please allow sometime for the Department to create a contact. Once contact is created, you will receive an invitation code via email.
3. Once you receive the invitation code, please click on the link provided in the email.

4. Upon clicking, you will be redirected to the redeem invitation page where the invitation code will be auto populated.
4.1 Please click on.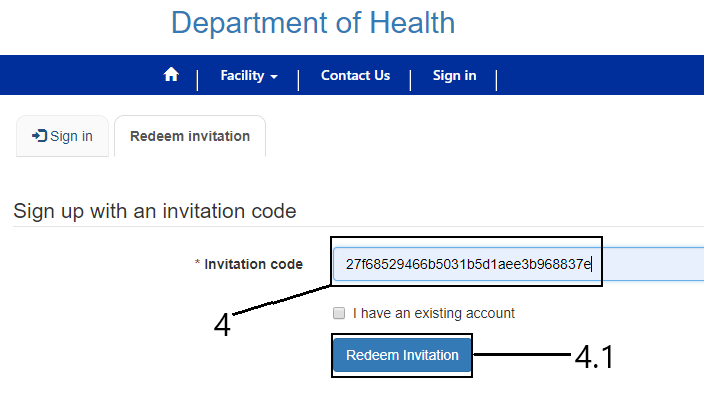 5. Upon clicking you will be redirected to register page, please check if your email is correct and then create a username & password (Password & Confirm Password). Then click on .
If the email is incorrect, please contact the department at
(609) 341 2124
or email us at
aap@doh.nj.gov
for Ambulatory Assessments and
gmesa@doh.nj.gov for
GME assessments.
NOTE:
Passwords must contain characters from at least three of the following four classes: uppercase, lowercase, digit, and non-alphanumeric (special).
6. Once you click on, you will be redirected to your profile.